Huey Magoo's Chicken Tenders Announces New Restaurants In ChampionsGate Featuring New Design Elements

FOR IMMEDIATE RELEASE          
 Huey Magoo's Chicken Tenders Announces New Restaurants In Apopka And ChampionsGate Featuring New Design Elements
The Popular, Central Florida Based Eatery Continues Its Rapid Expansion With the Official Addition of Two Newly Designed Locations in Apopka and ChampionsGate
Orlando, FL (June 26, 2018) – Central Florida's fast-growing, greatest tasting chicken tenders brand "Huey Magoo's" is continuing its expansion throughout the region with the addition of new stores in Apopka and ChampionsGate officially under way, which will feature new design elements, President and CEO Andy Howard announces today.  The Apopka store located in the Publix Shopping Plaza (446-8 S. Hunt Club Boulevard, Apopka, FL 32703) will be run by original Huey Magoo's Founders and Franchisees Matt Armstrong and Thad Hudgens.  It will be the largest Huey Magoo's restaurant in the chain at 3,100 square feet and is expected to open this October.  Located in the heart of Downtown ChampionsGate (8316 ChampionsGate Boulevard, ChampionsGate, FL 33896), that store will be run by seasoned hospitality professionals Chris and McKenzie Cohen, who collectively have over 30 years in the Quick Service Restaurant (QSR) industry.  The 1,875 square foot location is expected to open in late 2018/early 2019.
Joining the Huey Magoo's family of restaurants, Apopka and ChampionsGate will offer Huey Magoo's signature grilled, hand-breaded or "sauced" premium chicken tenders, farm fresh salads, sandwiches and wraps, available as individual meals, meals for two and family-sized options.  Each tender is always made fresh, all natural, with no hormones, no steroids and no preservatives.  Both locations will feature indoor and outdoor seating, with fresh new contemporary/urban design elements spearheaded by renowned restaurant and retail designer Kathy Diamond-Ulepic of Kathy Diamond Design Associates, whose portfolio includes The Krystal Co., Salsarita's Fresh Mexican Grill, Mazzio's Italian Eatery, Wingstop and many more esteemed brands.
"As our company continues to grow, we want to enhance our current positive branding elements, which have resonated well with our loyal customers, and create components that translate from location to location so that we have the complete package for future franchisees," says Howard.  "We are excited to see it all come together with our two newest stores coming to Apopka and ChampionsGate and to continue to expand throughout Central Florida, Florida, the Southeast and as far as this wonderful, much-loved brand takes us."
Apopka and ChampionsGate will add to Huey Magoo's existing franchise restaurants in Altamonte Springs, Oviedo, Winter Springs, Dr. Phillips, Millenia, the UCF Student Union and its corporate store in Lake Mary.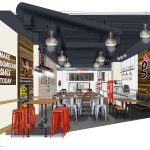 For more information on Huey Magoo's and a list of locations, visit www.hueymagoos.com.  For franchising inquiries, contact Paul Zielinski at 443-928-7727.
About Huey Magoo's
Huey Magoo's was founded in 2004 by Matt Armstrong and Thad Hudgens, two southern boys with a passion for quality chicken and a penchant for serving others.  Voted "Best Fried Chicken" and "Best of the Best Chicken Tenders", Huey Magoo's is rapidly expanding throughout Central Florida and beyond with multiple locations in Orlando, in addition to Altamonte Springs, Oviedo, Winter Springs, Lake Mary and the UCF Student Union.  Huey Magoo's prides itself on providing fresh and delicious chicken tenders in a clean, family-friendly environment, while showing their love for people.  Huey Magoo's delivers delicious, fresh, cooked-to-order chicken tenders, and they do it to perfection.  Huey Magoo's also gives back a portion of profits to not-for-profit organizations and community groups. Committed to building a culture of excellence in service and food quality by serving only premium hand-breaded or grilled chicken tenders dipped or "sauced" in uniquely flavorful signature sauces, Huey Magoo's attracts a cult-like following of Millennials, families and neighboring businesses desiring quality, delicious food at reasonable prices.
MEDIA CONTACT: Ilene Lieber, Passion PR Consulting, 321-277-7812, ilene@passionprconsulting.com