RIDA NEWS: Convention center hotel moves forward for spring groundbreaking
Dec 6, 2013, 12:01pm CST
Convention center hotel moves forward for spring groundbreaking
Olivia Pulsinelli
Web producer- Houston Business Journal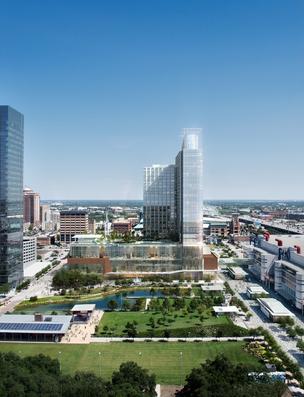 Courtesy Morris Architects
Downtown Houston's second convention center hotel has the financing to move forward with an April groundbreaking, the development companies said this week.
Houston-based Rida Development Corp. and Los Angeles-based Ares Management LLC said in a Dec. 5 statement that they secured funding from a six-bank consortium to build the $335 million, 1,000-room hotel, which is expected to break ground April 11 and be complete in 2016.
San Francisco-based Wells Fargo & Co. (NYSE: WFC) is the lead agent, with Birmingham-based BBVA Compass as the co-agent, for the consortium, which also includes New York-based CIT Bank (NYSE: CIT), Oklahoma City-based MidFirst Bank, San Antonio-based Frost Bank (NYSE: CFR) and Pittsburgh-based PNC (NYSE: PNC).
Earlier this year, Houston First Corp. and Rida finalized the development agreement for the hotel. At the time, they also finalized Houston First's portion of the financing — which funds the acquisition of the hotel site, construction of an adjacent parking garage and other improvements to the convention district — and authorized Houston First to transfer the hotel site's land to Rida.
Additionally, the development companies recently executed definitive agreements with Maryland-based Marriott International Inc. (Nasdaq: MAR) to name Marriott the manager of the Houston Marriott Marquis. The hotel was named a Marriott Marquis late last year, as well.
Houston will be the sixth city in the U.S. with a Marriott Marquis. Houston-based Morris Architects unveiled renderings of the hotel late last year.
The project will create more than 1,800 construction jobs and add 700 permanent jobs, according to the Dec. 5 statement.